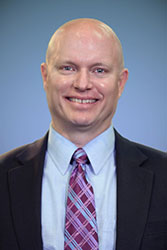 Term Expires:
Saturday, December 31, 2016
Professional Life: As the Vice President for the Colorado Springs Regional Business Alliance, John finds himself talking to company leaders every day and helping make this region the best place for business.
Community Involvement: John has already served one great term on the Board of Trustees. He has also enjoyed helping entrepreneurs through his board service with the Peak Venture Group.
Education: While he has earned a couple of degrees he has found his professional time in Colorado Springs to be the richest part of his life because he has learned so much.
Family and Personal Life: John has been married to his lovely wife, Marnie, for over 12 years. His favorite pastime is spending time with her and their precious son and daughter.