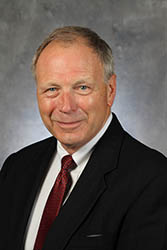 Term Expires:
Friday, December 31, 2021
Professional Life: Wayne worked as a leader in the utility industry for 35 years. He is a General Manager in Water Services at Colorado Springs Utilities with 16 years of service. Wayne served as a Marine Corps Captain.
Community Involvement: Wayne serves the community, including two terms on the PPLD Foundation Board and as member of the PPLD Carnegie Society. Wayne is involved in the Naval Academy Alumni Association.
Education: Wayne earned a B.S. in Engineering from the United States Naval Academy.
Family and Personal Life: Wayne and his wife Terry of 40 years, have two married sons and one grandson. They enjoy traveling, reading, listening to classic rock and blues, and hiking the Rockies.