Staff Book Reviews by Genre: Sports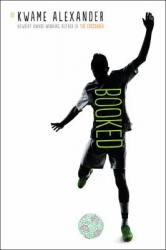 Review:
Nick Hall has everything going for him: he's doing well in school, he's got a solid flirtation going with his crush (or...limerence as it were), and most importantly, he made the soccer travel team. And so, of course, everything starts to go wrong. His parents separate, he starts to get bullied and his best friend ends up on a soccer team 30 miles away.
Booked is absolutely in no way the type of book I would normally pick up, but despite that, I thought it was fantastic. It's a sports fiction novel written in verse neither of which are my thing, but man, I get why Crossover won that Newbery if it was anything like this. In very few words, Alexander manages to develop complex characters, create humor, and develop and subsequently neatly (a little too neatly, perhaps, but hey, it is a book for kids) tie up several plot lines. Oh! And the words! There is a fun little subplot in which Nick's dad wrote a dictionary, and it leads to some really awesome word play. I also learned a few new fun vocabulary words to throw around.
Anyway, my final thought is really just...wow. I'm impressed. I'll definitely be booktalking this one. And even though, like I said, it's not my thing AT ALL, I'll probably read Crossover, Alexander's other book. 5 stars.
Reviewer's Name:
Britt