Databases: Green Living

Databases require a
valid library card number and PIN
when accessing outside of Library facilities.
Introduces students to issues surrounding both current energy sources and alternative energy options.
Publisher:
Gale eBook
Color photographs and maps illustrate the many species threatened by extinction.
Publisher:
Gale eBook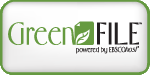 Covers all aspects of human impact to the environment from scholarly and general-interest titles. Includes content on the environmental effects of individuals, corporations and local/national governments, and what can be done at each level to minimize these effects.
Publisher:
Ebsco