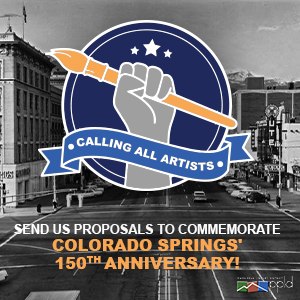 William Jackson Palmer established Colorado Springs on July 31, 1871. 2021 marks the sesquicentennial, or 150-year anniversary, of that founding.
Pikes Peak Library District (PPLD) is seeking proposals for a dynamic, 3D art piece that will incorporate PPLD Regional History resources, and commemorate the rich and diverse history of our community. It should consider how we came to where we are today.
Regional History and Genealogy collections at Pikes Peak Library District are held by Special Collections at Penrose Library. The collection includes books, maps, manuscripts and archives, photographs, oral histories, films and videos, government documents, pamphlets, periodicals, and other materials related to the history of the Pikes Peak region.
---
The selected piece will be featured outside Sand Creek Library with programming offered related to the theme during the time while the piece is on display.
The proposed piece should be artistically unique, one of a kind, and newly created for this project.
The piece should be eye catching, conversation evoking, appropriate for all ages, safe for public space, and able to withstand the weather faced by an outdoor installation through at least December 2021. Please keep in mind that it can be very windy at times.
The selected artist will receive $5,000 to create their proposed piece. The payment will occur in installments with $2,500 to be paid on acceptance of the proposal, and $2,500 to be paid upon installation at and acceptance by the Library. The Library will own the artwork and determine the best manner of proceeding with the piece at the end of the program.
---
---
Timeline
Submission deadline: Wed., Aug. 19, 2020
Selection notification: Week of Aug. 31, 2020
Installation of completed work at Sand Creek Library: Week of Dec. 7, 2020
Program completion: Dec. 2021
---
Selection Process
The selected artist will be chosen through a jury process.
Criteria for Selection:
Artistic merit: High quality, meaningful, innovative, engaging, thoughtful, unusual use of materials, aesthetically rich.
Reflection of Colorado Springs history in commemoration of the sesquicentennial: The proposal states clearly why the project is relative to regional history, current events, and the Library.
Incorporation of PPLD Regional History resources: The proposal suggests a unique way of drawing attention to some of the varied resources available within Special Collections.
Clarity of proposal and project: The proposal states clearly what will be built, what kinds of materials will be utilized, general construction techniques, as well as how people are intended to interact with the installation.
Achievability: The proposal demonstrates that the artist has a plan, knowledge of materials and methods, and that they have resources for learning and finding appropriate support to complete the project as needed.
Installation needs, maintenance and safety concerns, and mobility: Describes size of project, installation requirements, how the piece will be freestanding, how the piece will withstand the weather of a full year, etc. See below for further information in the site and other considerations sections.
The jury will be composed of a diverse group of creatives, community members, and PPLD staff. Jury members will read all applications and rank each according to how well they meet the criteria for selection.
---
Site Considerations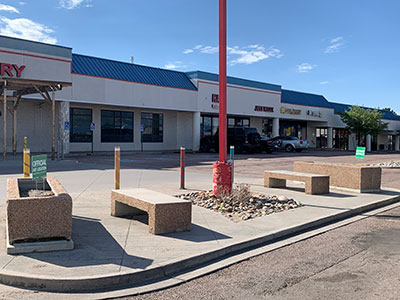 PPLD is open to the public and has visitors of all demographics. Art will be on display outside Sand Creek Library (see below for details on size). As an outdoor piece in a high-traffic area, the art should be safe for all ages and able to stand up to all kinds of weather. It should also be eye catching and evoke our diverse history. Visiting the site is encouraged to help influence the design.
The art will be installed in an area that is not PPLD property with the permission of the property manager. However, should the property manager request it, we may move the piece to an alternate location.
Maximum size area available: 8' x 10' (length x width)
Two potential spaces are available, and both can be used. Existing structures are present. Please see the photo of the space above.
---
Other Considerations
You must disclose the contents of your installation known at the time of submission of application, including but not limited to: hardware, technology, construction materials and decorative elements. If selected, artist will need to disclose any additional or new contents to PPLD staff.
For the year of the program, the artist shall be responsible for any repairing any damage, defects, and deficiencies to keep the project in the same condition as at the time of acceptance by PPLD.
All artwork/installations must meet Americans with Disabilities Act (ADA) standards for accessibility.
All artwork, when assembled, shall be secure and safe from tipping or other dangers.
All artwork must have a detailed plan to be evaluated for how the piece will be held in place. Should the suggested method not be possible, we will discuss alternatives with the artist. The area where the art will be installed is concrete.
All artistic products within this program must be your own original work, never before made. Any copyright clearance which may be required for use of materials is the responsibility of the participant.
Any moving parts must be enclosed to prevent pinch points.
By submitting a proposal, you agree to these terms and conditions. Upon acceptance, a signed contract, which stipulates the artist is an Independent Contractor of PPLD, and W9 tax form will be required, the artist must adhere to these guidelines.

The contract the selected artist signs will include the waiving of any right provided by the Visual Artists' Right Act.

The artist will have the first right of refusal to any sale of the art for two years.
A minimum of two progress reports for the selected project, which could include photos or visits, will be required.
Artists from anywhere may submit a proposal for this call. However, funding for travel and lodging for art installation is not available.
---
Entry Details
All submissions must include:
Full contact information: name, address, phone, and email
Current resume
Narrative description of the artwork, including title, medium/media, dimensions (in feet, height x width x depth), how it relates to the theme, any dynamic aspects to the piece
Images to help demonstrate the idea of the work, minimum of 1, maximum of 3
Two-paragraph maximum artist's statement
Installation plan (see details below)
---
Installation
Artist responsibilities: Installation at the site with PPLD Facilities staff; detailed plan for installation, submitted with application, and updated and brought on installation day; any unique considerations and other significant factors affecting exhibition for an extended period of time.
PPLD responsibilities: Potential safety items that are not a part of the artwork.
Liability: PPLD's insurance will cover any liability once the piece is installed.
Timing: Installation will occur on a date mutually agreed upon by the artist and library during the week of Dec. 7, 2020.
---
Project Research
Some potential themes that PPLD Regional History resources can support include:

Exploration and Expansion
Notable Figures / Historic Figures
Innovation and Enterprise
Exploitation (e.g. tourism/recreation, people, natural resources, etc.)
Natural Disasters

Many unique Regional History resources are available in Special Collections, located at Penrose Library. Some resources that may be particularly useful include:
Due to the Covid-19 pandemic, access to the Special Collections physical resources may be limited. To set up a research appointment or inquire on hours, please call (719) 531-6333, x1253
---
For research-related questions, please contact Cara Ramsey at cramsey@ppld.org.
Any other questions about the Call for Proposals should be directed to Becca Cruz at rcruz@ppld.org.