Image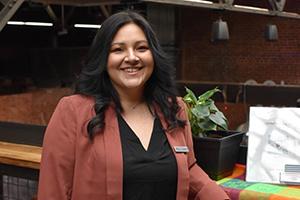 Pikes Peak Library District (PPLD) is proud to announce the new Entrepreneur in Residence (EIR) program. Entrepreneurship is vital to building economies and a strong ecosystem that supports entrepreneurs is how we hope to support this community. The EIR will connect and inspire diverse entrepreneurs and small business owners by providing mentorship, educational opportunities, and connections in the larger ecosystem.
PPLD is pleased to introduce Ginelle Curincita as our first Entrepreneur in Residence. Her residency will run from Wed., Sept. 28 through Sat., Dec. 12. During this time, Ginelle will offer workshops and classes focused on helping people with their entrepreneurial journey. She will also have open office hours at various PPLD locations to answer questions and offer tips.
---
Open Hours until December 7, 2022
Ginelle is also available for one-on-one consultations. To schedule a consultation please contact business@pikespeakgmail.org or (719) 491-4842.
---
About Ginelle Curincita
Ginelle is a proud Latina entrepreneur, native Spanish speaker, and lives in Colorado Springs. Her combined experiences working in higher education, diversity and inclusion, and small business development led her to launch OroMar Consulting. Ginelle most recently worked for the Renaissance Entrepreneurship Center in California where she oversaw partnerships, workshops, and grant & loan relief funds for women and minority-owned businesses. Prior to entering the small business ecosystem, Ginelle's bachelor's degree in social work and master's degree in education helped her to become the Director of a U.S. Department of Education grant at the University of California, Berkeley, which ensured the participation of low-income parents in postsecondary education through the provision of campus-based childcare services. Ginelle now uses her knowledge and experience to cater to the needs of underserved, small business owners by offering access to resources and funding to aid their growth and development and to turn their passion into profit.