Image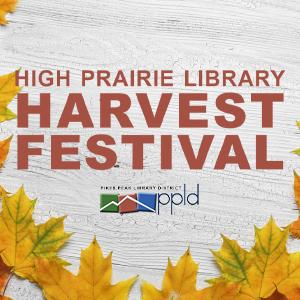 High Prairie Library's Harvest Festival returns in 2021 with a mix of virtual, passive, and live events celebrating the high plains!
BONUS: High Prairie Friends Brown Bag Book Sale Sat., Oct. 16 from 1 to 5 p.m.!
You can also contribute to our community cookbook and share your harvest with us!
---
Live Events
Colorful Leaf Rubbings for Children
Create colorful leaf prints using natural elements, crayons and water colors. For ages 5 and up.
Pumpkin Chalkboards for Teens
When: Fri., Oct. 15, 4:30 - 5:30 p.m.
Teens can celebrate Harvest Festival by creating and decorating their own pumpkin-shaped chalkboard.
Pumpkin Decorating and DIY Fall Scented Candles (18+)
When: Thu., Oct. 14, 2:30 - 4 p.m.
Come decorate a pumpkin and make a spice-scented candle for autumn! We provide the wax, wick, scent and heat as well as one candle tin per participant.
---
Take and Makes
Fall Beaded Bracelet (18+)
Origami Lucky Stars
Pie Piece Banner
---
History of High Prairie Library
High Prairie Library opened in 2010, bringing a permanent library facility to the Eastern Plains of Colorado while becoming a model for library sustainability. Paid for in part by a U.S. Department of Transportation Congestion Mitigation Air Quality Improvement Program grant, the 6,000-square-foot building in Falcon contains many eco-friendly features. "We have a geothermal pump, low flow plumbing fixtures, and large overhangs that reduce glare and solar heat gain in the summer, but also allow sunbeams in the winter," explains High Prairie Library Manager Liz Willhoff. "The landscape was designed using native plants, and we have beautiful beetle kill pine inside." The Colorado Department of Public Health & Environment's Environmental Leadership Program (ELP) has named High Prairie Library a Gold Partner! They achieved silver status last year, but have earned their gold status by creating an Environmental Management System (EMS). Their EMS helps High Prairie define their scope, set goals, track progress, and have accountability in their systems.
High Prairie Library: The Marriage of Beauty and Sustainable Design from PPLD TV on Vimeo.
The Library, located on land donated by Farmers State Bank, is also home to a garden and a seed library. In addition to these sustainable features, High Prairie Library provides library service to residents of Falcon, Peterson Air Force Base, Banning Lewis Ranch, Black Forest, and the Eastern Plains. Despite the broad service area, "High Prairie has a close community feel and you often know your patrons by name," says Willhoff. Perhaps the Library's greatest resource is its staff, which has become a vibrant team. "Staff here feels more like a work family and everyone is very supportive," says Willhoff. "Everyone has a strong work ethic and jumps in when and wherever needed." "Liz has done a really excellent job in engaging the High Prairie and Calhan communities," adds Hillary Dodge, PPLD's Director of the North Region. "She and her team attend a number of community events and meetings, and they are active in local schools and community organizations, as well. Not only are they trying to remind folks about their amazing neighborhood library, but they are also offering support and resources as library professionals."