Image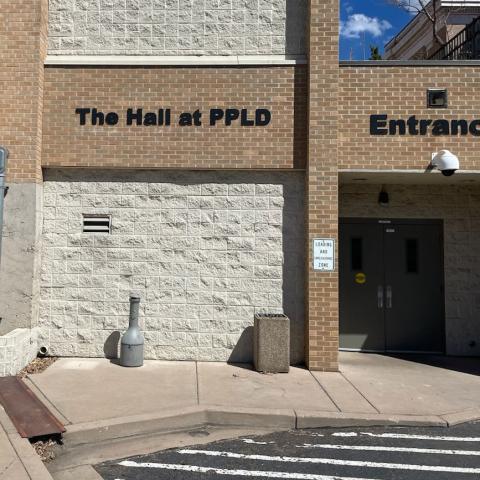 Knights of Columbus Hall, Pikes Peak Library District's (PPLD) community event facility, is being renamed to The Hall at PPLD. We have adopted the new name to better reflect how this event space supports the community by offering a large public space downtown for community members to hold meetings, performances, classes, and beyond at no cost. The name is already in effect, and new building signage was installed on Wed., April 12 reflecting the name change.  
The building was opened in 1928 and is one of the last buildings designed by Thomas MacLaren, one of Colorado's well-known historical architects. The Knights of Columbus used the building as a meeting hall, but it was also dedicated to civic events. Its current incarnation is a return to its original intended purpose. Bazaars, fiestas, fairs, public lectures, dancing and card parties, boxing matches, and wrestling matches were some of the events that happened in the building in the early days. St. Mary's High School used the building extensively during this time, and held dances, social events and basketball games in the building.  
The city of Colorado Springs eventually bought the building, and it served as home to the Colorado Springs Pioneer's Museum from 1937 – 1977.
PPLD purchased the building in 1996 and has used it for a variety of purposes including office space and collection management. Today, we host a variety of Library programs at the Hall at PPLD that are designed to provide community members with resources, from entertainment and small business resources, to food security and housing assistance. A few regular events hosted in this venue include The Story Project, Pikes Peak Poet Laureate, Community Exchange, and numerous community-sponsored events.