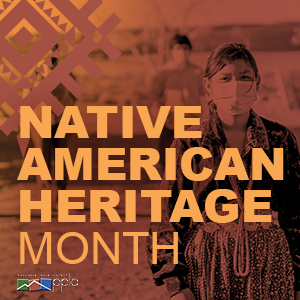 Join Pikes Peak Library District as we pay tribute to the rich ancestry and traditions of Native Americans during Native American Heritage Month. Throughout November, we'll have many opportunities for you to learn and engage, and several resources for you to use to learn more about Native American heritage!
---
Spotlight Events
Navajo Code Talker: Looking Through the Eyes of WWII Marine Chester Nez
Our country's Indigenous People were key to our victory in WWII. In the Pacific Arena, the Japanese managed to crack every communication code used by the United States. Marines turned to their Navajo recruits to develop and implement a secret military language. These Navajo marines created the only unbroken spoken code in modern warfare, and helped to assure triumph for the United States.
Bestselling author Judith Schiess Avila gives us the insider's account of Navajo code talker Chester Nez. Chester was one of the original code talkers—the men who designed the Navajo code and proved it in battle. Together, Chester and Judith tell the story of these indispensable marines in Chester's memoir Code Talker: The First and Only Memoir by One of the Original Navajo Code Talkers of WWII. The book is available at most bookstores and on Amazon.
Red Feather Woman
Join Rose Red Elk as she shares songs and stories about Native American culture.
---
Booklists
---
Immerse yourself in Native Dance with this video from Kennedy Center Education Digital Learning. The beautiful regalia (costumes) and dances are fascinating. Make sure to watch the hoop dance!
---
Larry Cesspooch, a member of the Ute Indian tribe, talks about his tribe and their creation stories. Celebrate Native Heritage Month by joining him for a few minutes of wonder.
---
Regional History and Genealogy Resources
Our Regional History & Genealogy collection holds a rich, diverse collection of material on Native American history and culture. While our collection is primarily focused on the tribes of the American West and the Plains, we offer sources on indigenous people all over the United States. Some examples of the materials we have are listed below, but if you'd like to explore more, all you have to do is ask! Learn more about getting in touch with our staff HERE.
Database and Other Materials:
Early, first-hand accounts of our region's Indigenous inhabitants from local newspapers in Pikes Peak NewsFinder. Try the search term "Indians" or "Ute Indian."
Explore images of Ute Indians in Colorado Springs through our Digital Collections.
Native Land: A tool which allows users to interact with traditional Indigenous territories, languages, and treaties on a map.