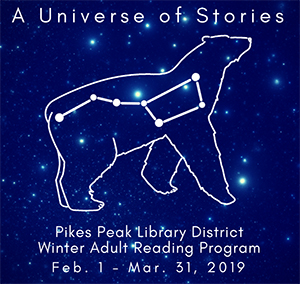 Coming soon!
PPLD invites you to participate in 2019's Winter Adult Reading Program A Universe of Stories! From February 1 - March 31, read books and attend Library programs to win prizes. Complete the program by reading 8 books OR a combination of reading 4 books and attending 4 programs or activities.
1st Prize: A chocolate bar and polar bear heat/cold pack
2nd Prize: 2019 Winter Adult Reading Program Mug
Grand Prize Drawing: A Samsung Tablet
Registration begins online and in person at every Library location on Friday, February 1. On Saturday, February 2, stop by the East Library, Library 21c, Penrose Library, Sand Creek Library, High Prairie Library, or Ruth Holley Library to register in person at a kickoff party and receive a limited edition tote bag!
Winter Adult Reading Program Kickoff Parties
Join us for the kickoff of the Winter Adult Reading Program: A Universe of Stories. Come enjoy a hot chocolate bar, find some new reads, and participate in a book swap. Staff members will be on hand to help you register and the first 30 people who register in person at the party will receive a limited edition tote bag. All ages welcome to the party. The reading program is open to ages 18 and up.
Click here for a complete list of Winter Adult Reading Program events.