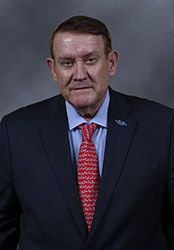 Professional Life: Dr. Stoll spent 27 years as an officer in the US Army and 25 years as a contractor supporting military forces in Korea and Germany.
Community Involvement: Dr. Stoll volunteers at the Pikes Peak Council BSA Board of Directors and is Jamboree District Chairman. He also volunteers at Mt. Carmel Veterans Service Center.
Education: Dr. Stoll holds a PhD in Law from the University of Utah, a M. Ed. in Human Resource Management from Boston University, and a BA in Anthropology from Wichita State University.
Family and Personal Life: Dr. Stoll and his wife have been married for thirty years. They moved to Colorado Springs in 2017 after more than twenty-three years in Korea and Germany. They have two sons who are both Army officers. Dr. Stoll and his wife enjoy Colorado's variety of outdoor activities.