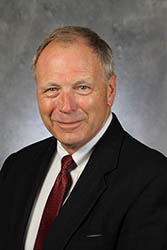 Professional Life: Wayne has been a leader in the utility industry for 38 years. He was General Manager in Water Services at Colorado Springs Utilities with 16 years of service. Wayne served as a Marine Corps Captain.
Community Involvement: Wayne proudly served two terms on the PPLD Foundation Board. He supports various veterans' groups, Care & Share, and is involved in the Colorado Foundation for Water Education and the Naval Academy Alumni Association. He also serves as a Director on the Donala Water & Sanitation Board.
Education: Wayne earned a B.S. in Engineering from the United States Naval Academy.
Family and Personal Life: Wayne and his wife Terry have been married for 42 years. They have two sons, one grandson, and one granddaughter. They enjoy traveling, reading, the arts, and hiking the Rockies.