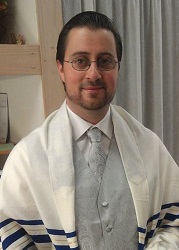 Birth City:
Vendenbergh Air Force Bace
Biography:
Nicholas S. Casale grew up in Palmer Lake, a small town in Colorado. Shortly thereafter he received a Bachelor of Arts degree in history from the University of Colorado at Colorado Springs and began working as a paralegal.
From a young age he was attracted to history, myth, and religion, and spent several years searching for the religion that best matched his personal beliefs. He is now a practicing Messianic Jew, and is happily married to the woman who taught him Hebrew.
He currently lives in Colorado Springs with his wife
Published Works:
The Crusade of Stone and Stars (Tales of Erets book 1)(Alpine Line Publishers, 2015)
The Soothsayer's Son (Tales of Erets book 2)(Alpine Line Publishers, 2016)
Education/Training:
Bachelor of Arts degree in History, University of Colorado, Colorado Springs
Speaker Topics:
The novels - History - Mythology - Religion