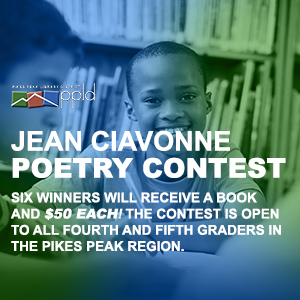 Hope is Where the Heart Is: Poems of Inspiration for the Future is the theme for 2021!
What gives you hope? What are you excited about for the future?
There is a saying that "Every cloud has a silver lining," meaning that no matter how bad things may seem we can always find something good to look forward to. What is your "silver lining?"
Questions to ask yourself as you write your poem:
Can we see, smell, hear, and taste the imagery in your poem?
Have you used rich vocabulary that tells us a story or paints a picture?
Does your poem reflect the theme?
---
Prizes:
Six winners will receive $50 each. Each winner will also receive a book of poetry.
---
Eligibility:
Open to all fourth and fifth graders in the Pikes Peak Region.
Contest Rules:
One entry per student. Teachers are urged to review poems and submit no more than five per class.
Each poem must be the original work of the contestant.
Poems will be judged on originality, including poem title and adherence to the theme.
Submit two typed, double-spaced copies of each poem on 8 ½" x 11" paper (no handwritten submissions or illustrations will be accepted.) Include ON A SEPARATE PIECE OF PAPER: name, telephone number, home address, school name and address, and teacher and principal's names. Poems will not be returned. Please keep a copy.
Entries must be postmarked by March 2, 2021.
Submission of a poem constitutes full permission to exhibit, use and publish the poem for any purpose – printed or electronic media – and to publish the name, school, and photographs of the student without compensation.
Submissions
Poems may be submitted online here.

Entries may be mailed to:
The Jean Ciavonne Poetry Contest
c/o Carol Scheer
Pikes Peak Library District
P.O. Box 1579
Colorado Springs, CO 80901-1579

Or email entries, following guidelines above to: cscheer@ppld.org
---
Questions?
Call or email Evan Childress: (719) 531-6333, x6069 or echildress@ppld.org
The winners will be announced in April. The details of an awards ceremony are still to be determined.