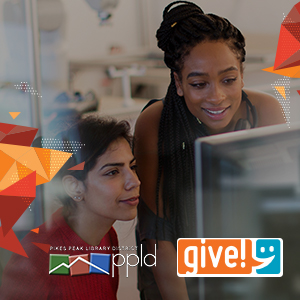 Pikes Peak Library District is honored to be a part of the class of 2019 Give!
Give! makes it simple for everyone, young and old, to get involved in philanthropy. It's your chance to give back to local nonprofits across a wide range of categories. Find your favorites, discover some new ones, and earn rewards for your generosity. Give to the Library and any of the other 101 local non-profits at the same time!
PPLD enables every individual in the Pikes Peak region to achieve their goals, whatever those goals may be. State-of-the-art equipment and software, elite educational opportunities, and community support and assistance are available through the doors of every PPLD facility. The only limit to what you can achieve at the Library is your imagination.
Check out some of what PPLD has to offer your community: