Image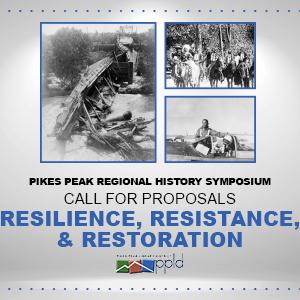 Call For Proposals: Resilience, Resistance & Restoration
Proposal deadline: Fri., Jan. 7
Scheduled for Sat., June 11, 2022, the 19th annual Pikes Peak Regional History Symposium, Resilience, Resistance & Restoration, will explore the challenges and triumphs of the people and communities of the Pikes Peak Region. What stories, whether from 200 years ago or two months ago, might guide and inspire us as we move forward as a community rocked this past year by the COVID-19 pandemic, racial reckoning, and political division?
Topics may include, but are not limited to: the misfortunes, challenges, and victories experienced by trail blazers, travelers, traders, Native Americans, farmers, soldiers, merchants, manufacturers, scientists, doctors, and visionaries; the consequences, repercussions, and successes of war and conflict; the highs and lows of medicine and disease in a community shaped by tuberculosis clinics and health-seekers; the impact of changing landscapes (ecological, political, social, economic, etc.).
Proposals should be sent by Fri., Jan. 7 to:
Cara Ramsey, Program Coordinator
Pikes Peak Library District
P.O. Box 1579, Colorado Springs, CO 80901
---
Proposal Guidelines
Please use these guidelines to prepare your proposal. Please include all seven requirements.
TITLE (5-15 words): A descriptive title for your proposed presentation and/or paper
SUMMARY (50-100 words): A brief summary of the topic covered in your proposed presentation/paper
PRÉCIS (1,000-1,500 words): A summary that includes your thesis, all of the supporting arguments and your conclusion for your proposed presentation/paper
SOURCES (50-100 words): A general list of primary and secondary research sources supporting your proposed presentation/paper
SHORT BIOGRAPHY (75-100 words): A brief description of you
RÉSUMÉ (One Page): A resume with relevant educational and research accomplishments, mailing and email addresses, and phone number
PROPOSAL FOR:

(Please indicate one)

Symposium presentation only
Regional History Series publications
Both Symposium presentation and the Regional History Series publications
Either Symposium presentation or the Regional History Series publications*

*Selecting "Either" will not negatively impact the possibility of acceptance of your proposal for both, but may increase the possibility for acceptance for one or the other if both cannot be accommodated.

Note: Written papers (6,000-12,000 words) accepted for consideration for publication in the Regional History Series (online or possible printed book) must be submitted in final form six months after the Symposium date. Paper guidelines are available at RegionalHistorySeries.org.