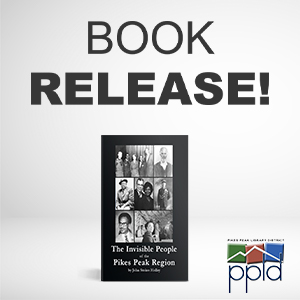 Join the Pikes Peak Library District and the Special Collections team for a virtual book release of The Invisible People of the Pikes Peak Region by John Stokes Holley.
To help celebrate the book's release, we will hear presentations from two Colorado Springs natives. PPLD Senior Adult Services Librarian Melissa Mitchell will present "Growing up with Greatness" and Colorado Springs native Sharon Tunson will present "Unsettled Settler." Also speaking at the event will be PPLD Chief Librarian John Spears and the book's editors, Takiyah Jemison and Heather Jordan of the Pikes Peak Library District.
---
About the Book
An Afro-American chronicle published in 1990, presented the first comprehensive history dedicated to the local African American community. Co-published by the Friends of the Pikes Peak Library District and the Friends of the Colorado Springs Pioneer Museum, the book brought to light the history of accomplishments and struggles often ignored by local history books.
The reprint presents the original publication in its entirety with an expanded index and new images as well as new content not available in the original. It is our hope that this reprint will further illuminate the stories of the Invisible People of the Pikes Peak region and enlighten readers with a more complete and representative history of our community.
---
How to Read It
Special Collections at Penrose will sell the book.
Clausen Books, will also sell the book. They are offering a flat $21.00 + free shipping offer for the first week of release so until Thu., March 18. Regular price is $24.95.
Libraries will have it for checkout on Fri., March 12.