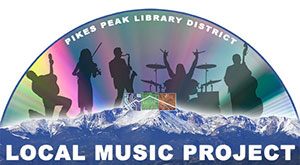 The Pikes Peak Region has a vibrant and diverse music scene which contributes to and enhances the unique cultural identity of the area. Pikes Peak Library District's Local Music Project (LMP) aims to connect our community's talented musicians with listeners by providing a platform from which artists may be discovered and their music heard.
PPLD's Local Music Project features music and information about musicians and music ensembles whose original work has a definitive local connection, being composed, performed, produced, and/or recorded in the Pikes Peak Region.
Disclaimer
Inclusion in any PPLD database does not mean nor imply that the Library evaluates, endorses, or sanctions any group or individual service. The responsibility of choice rests with the users. Although Library staff strive to keep information current, it is possible that specific information within the listing may change at any time or may not represent a full spectrum of the community. Because the database is available to the general public as well as various government and nonprofit institutions, the Library cannot be responsible for any modification or use of the information.