Image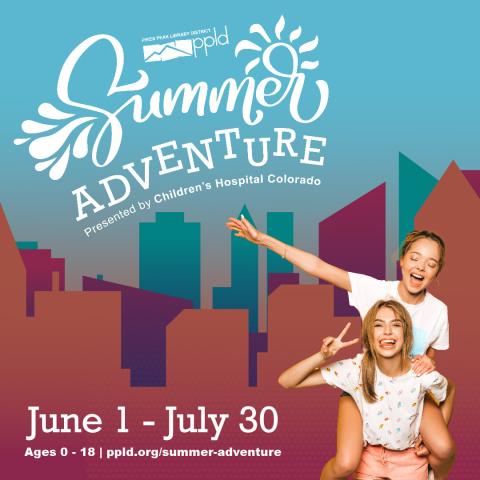 Summer is here! We have a wide variety of no-cost events and activities for teens, no matter what they are interested in.
With locations throughout Colorado Springs and El Paso County, the Library provides opportunities for teens to learn new skills like coding or get artistic with Spray Paint Designs. Additionally, they will have opportunities to stay in touch with friends through sessions of laser tag or life-sized games!
Teen Activities typically happen in the afternoon or on the weekend but check the links below to see all the dates, times, and locations in our program calendar.
Check out our Summer 2023 programs at Pikes Peak Library District below!
Red Cross Babysitters Training Class
*Spots are limited – reservation is required!*
As the nation's leader in babysitting classes and childcare training, the American Red Cross can help you become a capable, confident babysitter that families love. Topics covered range from childcare to entrepreneurship and workforce readiness!
Laser Tag
Play laser tag at the Library! Ages 12 - 18 only. Waivers and registration are required.
Life-Size Game Night: Intergenerational Edition
Bring the whole family and enjoy a twist on your standard game night using our popular life-sized board games! There will be Life-Size Candyland, Life-Size Battleship, and Life-Size Clue to choose from. Team up by generation or mix it up for an intergenerational advantage and play all together now!
Nailed It! Intergenerational Edition
*ONE HOUR ON THE CLOCK!!* Come to the Library and see who nails it! Team up with or compete against older and younger folks to show off your decorating skills! Just like the popular Netflix series with by the same name, we challenge you to replicate professional cupcake designs using provided supplies.
Coding Series: Music
Beginners can learn to code with Google in Scratch! Using an evaluated curriculum from the computer scientists at Google, youth will learn basic computational thinking concepts through block coding. This session's theme is Music.
Colorado Flag Pride Painting
Show your Colorado and LGBTQIA+ pride by painting a version of the Colorado Flag with Pride colors!
Escape Room: Let's Taco 'bout Books
We love tacos, so we stepped into what we thought was a taco truck. Instead, we find ourselves in the middle of what looks like a bookmobile. While we do love books as much as tacos, everything in this mobile library seems to be twisted, upside-down, and nothing makes sense. We tried opening one of the books, but they all seemed out of reach. We are in a library that won't let us read any of the books and there are no tacos!
Solve the clues to break out of the bookmobile and get some tacos in this classic escape room!
Introduction to Machine Learning
How does Artificial Intelligence become, well, intelligent? In this introductory session, you will find out how machines learn as well as use Teachable Machine by Google to create your own machine learning model.
Learn to Crochet: Amigurumi Yeti/Sasquatch
In this three-part series, you will learn the basics of crochet while completing a cute amigurumi yeti or sasquatch! This program is appropriate for complete beginners.
Learn to Sew: Drawstring Bags
Learn to thread the needle and do basic troubleshooting maneuvers on Brother sewing machines before creating your own drawstring bag.
Spray Paint - Greek Mythology
Create a Greek Mythology inspired art project using stencils and spray paint! Wear clothing, you are okay with getting messy. Ages 12 - 18.