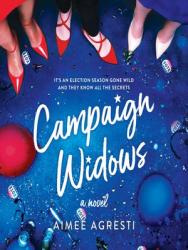 Review:
Every four years, presidential candidates and their staffers travel the country searching for funding and votes. Campaign Widows follows five people who have been left behind by their partners as they work for electoral victory. But don't kid yourself - these "widows" have lives of their own. There is Cady, a newcomer to DC who is producing a show that is sagging in the ratings, Reagan, a speechwriter who is now doing freelance work as the recent mother to two twin girls, Birdie, a media mogul and DC taste-maker, Madison, whose husband Hank is in the running to be president, and Jay, whose partner Sky who got quickly upgraded from the "culture" section of the Queue (think Huffpost) to "politics" due to a staffing shortage. The book covers each of these dynamic characters as they live their own lives and effect the election in their own ways - with or without their partners' support.
This book is the perfect summer beach read, which is to say that its a light, fluffy read that would be great for any vacation (no beach necessary). The premise and setting were unique - I've not read a ton of women's fiction that is politically centered or even set in DC, and that really added to the title's value for me. All of the characters were well drawn and interesting in their own way. Often, when I read a book with multiple POVs, I find myself more invested in certain stories and then race through the chapters I don't much care for, but that was not the case here. Everyone was likable and engaging.
On the downside, I wanted more political satire than I got. While there definitely was some satire (Hank is a Trump stand-in, for example), and some dream scenarios (a three person dead heat race), I wanted more. Everyone's arcs were tied up a little too neatly for my taste, and it also made the book feel a bit less realistic.
Overall, I would recommend this read to anyone who enjoys the genre and likes happy and easy reads. It reminded me of Crazy Rich Asians in tone and style, so if you liked that book, give this one a try! I hope it gets made into a TV show or movie, because it'd be excellent in either of those formats if the drama and comedy were both amped up a bit. If you are looking for a light summer read, look no farther. 4 stars - its a stand-out in its genre!
I received a complimentary copy of this book from Graydon House through NetGalley. Opinions expressed in this review are completely my own. Campaign Widows became available for purchase on 22 May, and you can put your copy on hold today!