Every Wednesday we'll post about a different database or website – all of which can be accessed through ppld.org!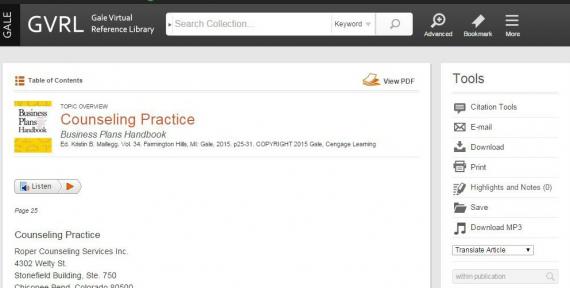 This 32-volume set contains actual business plans from working businesses. Designed to be an example for entrepreneurs who are compiling their own business plans, this series covers several industries and popular business types going back to 1993.
Since Business Plans Handbook is part of the Gale Virtual Reference Library, it has some really helpful features. One of the best features of Business Plans Handbook is that you can search the entire series by keyword. The search feature scans the full-text of all 640 business plans in the collection. This is helpful because you might not know the exact title of the business plan that would be most helpful in writing your own. By typing in a keyword, you get back any results that contain that keyword. You might be surprised by what you find.
Other features of the database:
You can view the full text of business plans online or download them in pdf format.
You can email or print directly from the database
You can listen online to an audio version of the business plan or download it as an mp3
There are built-in citation tools
Click here to access Business Plans Handbook. Take some time to explore this resource, and check back next week for information on another business database!