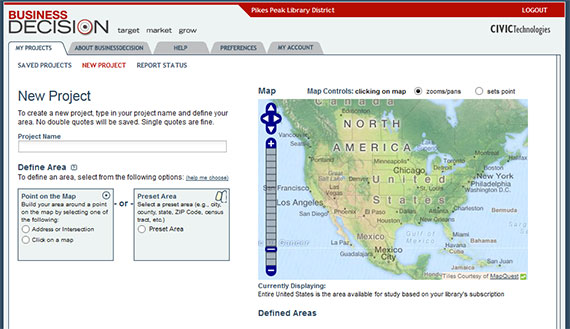 BusinessDecision is a database that covers consumer markets, providing information on demographics, market segmentation, and business information. It is a very powerful way for business owners, non-profits, or entrepreneurs to research markets or other businesses in a particular area.
When you're getting started with Busines Decision, you have the option to choose "Express Login" or to create your own private login. Express Login will list all of the searches that have been performed by PPLD library users who have used that login. If you create your own account, the database will save just your searches, and no one else can view them. Once you create a new project, you must specify a geographic area in which to perform the search. You can do this by clicking on the map, or by entering an address manually. You can then choose the radius of your search.
The next step is to choose which reports to run. There are 16 reports to choose from. You can choose one or all of them. Each report gives different information for the geographic area you have chosen. For instance, Landscape Report will give you the top 20 distinctive market segments for that particular area. These segments, defined by BusinessDecision, are groups of people that share certain traits such as income, age, or education level.
Once you've chosen your reports, BusinessDecision runs them within seconds. You can view or download the reports in PDF format.
Click here to give BusinessDecision a try.
BusinessDecision can be an invaluable tool if you're researching consumer markets or businesses in a particular area. As always, we are here to help if you have questions! Attend the next Minding Your Business class at Penrose Library or Library 21c for a demonstration of this database.