Friends of the Library Fall Book Sale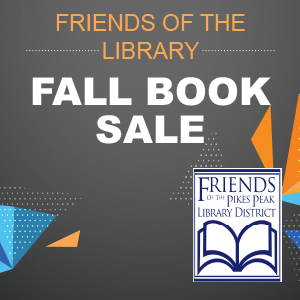 The Friends of the Pikes Peak Library District was established on the 50th anniversary of the Colorado Springs Public Library (March 11, 1955) and incorporated in 1969 as a nonprofit organization. The Friends is a constant advocate for the Library. Today, with 900 members, the Friends sponsors and supports numerous programs and events to further the enjoyment of reading and love for books for all individuals.


Friends Members ONLY Fall Book Sale
Friends memberships are available at the door or CLICK HERE.
Public Fall Book Sale
When: Sat., Oct. 5, from 10 a.m. - 4 p.m. and Sun., Oct. 6, from 11 a.m. to 3 p.m.
Where: East Library