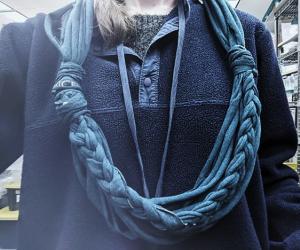 Take and Makes for this project will be available at area PPLD Libraries starting Friday, Dec. 4, 2020.
Watch this project here: https://youtu.be/v8AGvL83YRc
Supplies:
1 T-shirt from home or Take and Make
Scissors
Directions:
Lay out the t-shirt on a flat surface.
Measure 1 inch up from the bottom hem and cut in a straight line all the way across. You will have a loop of fabric when you're finished.
Continue cutting 1 inch strips from the t-shirt. Stop when you reach the sleeves. When you finish, you should have a pile of loops.
Stretch the loops out as far as you can by pulling at both ends.
Once you've stretched all the loops, set one aside and line the rest up with one another. You will end up with one big loop made up of many strands.
The next step is to tie them in place so that they stay together. Start by creating the tie. Take the loop that you set aside earlier. Now, cut the loop so that instead you have one long strand of fabric. Cut it in half so that you have 2 long strands.
Optional: if you want to attach a braid to your scarf, cut three strips of fabric from what's left of the t-shirt. Stretch them, tie a knot at the top, and braid them. You will tie the braid to the scarf in the next step.
Now you will use one of the strips you cut in step 6 to tie the loops of the scarf together. Take one of the strips you cut and tie a square knot (right over left, then left over right) around all the loops (and one end of the braid if you made one). This will hold your scarf together.
Now wrap the rest of the strip of fabric around the knot, covering it up, and continue wrapping until you've used up almost all the fabric. Once you have just an inch or two left, tie another knot and tuck it under the wrap to hide it.
If you added a braid, take the second strip of fabric you cut and repeat steps 8 and 9 with the other end of the braid to secure it to the scarf. The scarf will be knotted in two places. Otherwise, you can either discard the 2nd strip of fabric or tie another section if you like how it looks.
Loop it around your neck. You have a scarf!