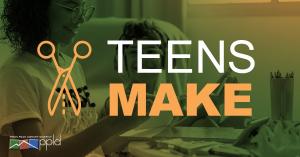 Library buildings may be open on a limited basis right now, but there's still plenty for teens to do on PPLD.org!
You can join us every Tuesday and Friday in May for a new teen virtual program. In these video programs, library staff will walk you through different activities using common items you might already have at home. So far, we've learned how to make a DIY lip scrub, baked 3-ingredient peanut butter cookies, and discovered some ways to class up our instant ramen.
You can watch all of those virtual programs on PPLD TV: https://tinyurl.com/PPLDTeenPrograms. Learn to cook, become a master of self-care, and make some quirky crafts while you're cooped up inside!
If you want to look at what else is coming up for teens in the next few weeks, check out our online calendar at https://tinyurl.com/y9hdog3e.