Karchut, Darby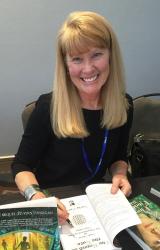 Biography:
Darby Karchut is an award-winning author, dreamer, and compulsive dawn greeter. A proud native of New Mexico, she now lives in the foothills of the Rocky Mountains, where she runs in blizzards and bikes in lightning storms. When not dodging death by Colorado, Darby is busy at her desk writing for children, teens, and adults. She is represented by Amanda Rutter at Red Sofa Literary. Visit the author at www.darbykarchut.com.
Published Works:
Finn's Choice (Finn Finnegan series, bk. 4)
The Stag Lord (written as Darby Kaye)(December 2014)
Stone's Heart (Clean Reads, 2016)
Money and Teens: Saavy Money Skills
Essential Money Handbook
Awards/Honors:
Finn Finnegan – 2014 IPPY Silver Medal for Juvenile Fiction
Griffin Rising -- 2011 Sharp Writ Book of the Year
Finn Finnegan -- nominated for the 2013 Colorado Book of the Year
Money and Teens -- 2013 EIFLE (Excellence in Financial Literacy Education) Book of the Year
Education/Training:
MA in Education - The Colorado College ; BA in Anthropology - The University of New Mexico
Organizations:
PAL member of the SCBWI ; Member of the Pikes Peak Writers
Speaker Topics:
I have presented various workshops over the past few years at the Pikes Peak Writers Conference as well as the Rocky Mountain-SCBWI Fall Conference.