PPLD Foundation
Dear Library Patron,
We love being in your neighborhood – and like any good neighbor, we want to support our fellow families and friends. We are excited to provide all Pikes Peak Library District supporters with a CPK Philanthropizza Card.
Every time you use this card, 20%* of your net food and beverage purchases will be donated back to Pikes Peak Library District. It's easy – the more you visit CPK, the more money we donate. It makes raising money to support your organization's efforts a piece of cake…or pizza!
All you need to do is visit our CPK location in The Promenade Shops at Briargate November 1, 2016 through February 28, 2017 and present the Philanthropizza card to your server at the end of your meal. Cards are available at all PPLD locations. Dine in the restaurant with us, try take-out or catering; any way you order helps the library. Either way, we look forward to seeing you very soon.
If you haven't been in to see us recently, be sure to check out our newly reimagined menu featuring fresh, seasonally inspired ingredients and inventive Main Plates like a new Fire-Grilled Ribeye, Hearth-Roasted Halibut, and our new Lunch Duos. Drink the unique as well with our hand-crafted cocktails and selection of regional beers and California premium wines. Of course, the classic hand-tossed artisan pizzas and unique pastas and salads you love are still here.
Sincerely,
Your California Pizza Kitchen Neighbors
1645 Briargate Parkway Suite 203
Colorado Springs, CO 80920
Philanthropizza Cards are valid at The Promenade Shops at Briargate, November 1, 2016 through February 28, 2017.
For questions, please contact Isabel Soto-Luna at msoto-luna@ppld.org or (719) 884-9812.
*Tax, gratuity, gift card and retail purchases excluded.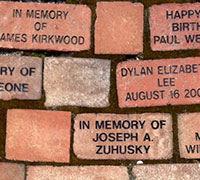 Purchasing a Library 21c courtyard paver is a great way to honor family and friends, commemorate memories and events, or to publicize your organization or business. Your purchase of a courtyard paver also contributes to PPLD's Tri-Building project, providing 21st Century Library service through innovative library spaces and technology for everyone in our community.
Commemorative pavers are now available at East Library!