All Book Reviews by Genre: Western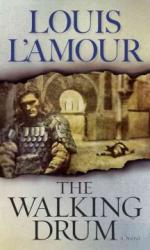 Review:
The Walking Drum by Louis L'Amour is the story of the twelfth
century adventurer Mathurin Kerbouchard and his journey to find and rescue his father who had been captured at sea. His journey takes him all across Europe and into the Muslim world, a world of culture and science that is much different than the squalid life of Europe. It is a lively story, full of exciting characters, vivid description of life in the Middle Ages, and daring exploits that climax at the infamous Valley of the Assassins. Throughout the book are many historical facts thrown in by Kerbouchard as he narrates his travels which I found interesting, but someone who is simply looking for an adventure book might find them tedious. I would definitely recommend this book to someone who loves history and travel, because it satisfied some of my own wanderlust with its vivid description of the splendors of an age long gone.
Reviewer Grade: 11
Reviewer's Name:
Grace O.
Review:
I've never enjoyed an obituary so much. Charlie LeDuff sure knows how to cozy up to his readers, even if the tales he's telling are less than happy, quaint musings set in Paradise. An easygoing, narrative style meant I had serious trouble putting this book down. Partially, I'm fascinated by the empty shell that is now the city of Detroit- and I'd much rather hear about it from the bottom, up than vice versa. Real stories from real people put things into a much clearer perspective, while also lending a definite desperation to the tone. Detroit has died, and after ignoring its death throes, we didn't even have the decency to give it a proper funeral.
Charlie is ready to breathe one last breath of life into a city that has been burned down by its own residents no less than three times in history. It's a city that in fact gave birth to the American worker, the American sound, and American progress. It's hard to escape the irony that it's also where all of those things have gone to die.
Reviewer's Name:
Evan