All PPLD facilities will be closed on Wednesday, December 24, and Thursday, December 25. Happy Holidays!
Ruth Holley Library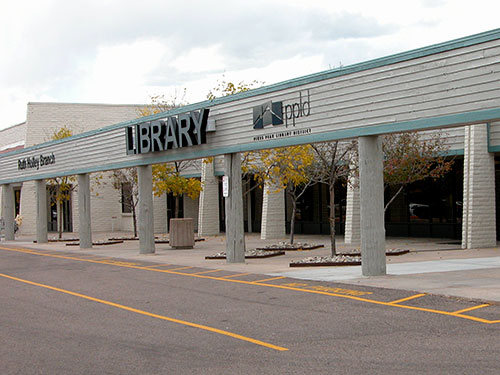 Address:
685 North Murray Blvd.
Colorado Springs, CO 80915
Phone: (719) 597-5377



Hours:
Mon. - Thurs.: 9 a.m. - 9 p.m.
Fri. and Sat.: 10 a.m. - 6 p.m.
Sun.: Closed
Holiday Hours and Closures
Bus Route: 7

What's New!
Submit your artwork to our Teen Art Contest!
The theme for our 2015 Teen Art Contest is Out of This World. Think beyond the scope of the everyday and explore something "out of this world" through art. Imagine a fantastical realm or the deepest depths of space and express yourself on canvas, cardboard, paper, wood, or even metal; the medium is your choice!
Artwork will be accepted on March 2 and 3 at the following libraries: East, Fountain, High Prairie, Library 21c, Manitou Springs, Monument, Penrose, Sand Creek, and County Mobile Library stops.
Guidelines
All entrants must be in grades 6 - 12 in March 2014.
All entrants must submit an online submission form and Artwork Agreement Form.
Entrants may submit only one piece of art.
Jurors reserve the right to decline inappropriate entries.
Entries must be two-dimensional and no more than two inches deep, including frame. Any textural elements (glued-on items such as pencils, pennies, etc.) must be inside a frame to prevent damage.
For more information, email rphilipsen@ppld.org or call (719) 884-9800, x6336.
Click the title of this post to view comments.
Come join us at Ruth Holley Library for an after school adventure! We'll provide the supplies, you bring your imagination. Light snacks will be served. Ages 12 & under.
When: Fridays, 4 - 5 p.m.
Where: Ruth Holley Library
Click the title of this post to view comments.
Do you want or need to learn how to use a computer, use the Internet, or use email?
Tutorials and coaching can help you learn one or more of the following:
Getting Started on the Computer
Using a PC (with Windows 7)
Basic Search
Navigating a Website
Signing up for Email
Using Email
Starting Online Job Searching
Come to Computer Basics Help at the Ruth Holley Library!
Classes are offered twice a week for an hour each time: 2 p.m. on Tuesdays or 9 a.m. on Wednesdays.
Bring your own headphones or earbuds to hear the tutorials, or you can purchase earbuds for $1 at the customer service desk.
No pre-registration required and walk-ins are welcome. See you there!
Click the title of this post to view comments.