The Interlibrary Loan System will be down Wednesday, September 2 for maintenance and an upgrade. You will not be able to login to your account or place new requests.
East Library's main entrance is closed for renovations. Please use the temporary entrance located to the south (left) of the main entrance.
Ruth Holley Library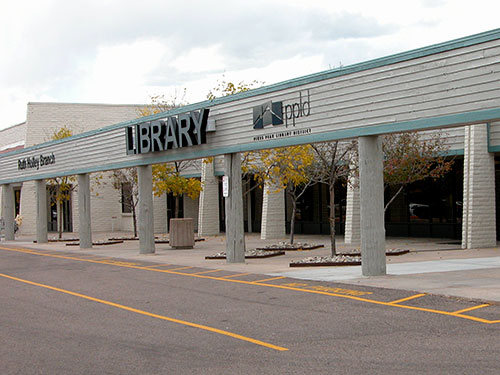 Address:
685 North Murray Blvd.
Colorado Springs, CO 80915
Phone: (719) 597-5377



Hours:
Mon. - Thurs.: 9 a.m. - 9 p.m.
Fri. and Sat.: 10 a.m. - 6 p.m.
Sun.: Closed
Holiday Hours and Closures
Bus Route: 22

What's New!
Pikes Peak Library District was honored in two categories by The Gazette's Best of the Springs!
Expert Pick for Hands-Down Great Place for Kids
"On any given day of the week, parents can find a free educational event for their kids to attend at one of the many libraries of the Pikes Peak Library District. From newborns to teens, the district makes an effort to reach out to all kids and give them age-appropriate programming and resources to help them learn more. Programming is especially good in the summer months when the libraries bring music, crafts, animals, and movies for kids and parents to enjoy together."
Voter's Choice for Teen Hangout
"Teens can enjoy myriad activities, get help with reading, writing and math homework as well as learn how to use library resources for research and enjoyment. The district has organized a wide range of unique programs including workshops in electronics, gaming, tutoring and knitting."
Click the title of this post to view comments.
Come join us at Ruth Holley Library for an after school adventure! We'll provide the supplies, you bring your imagination. Light snacks will be served. Ages 12 & under.
When: Fridays, 4 - 5 p.m.
Where: Ruth Holley Library
Click the title of this post to view comments.
Do you want or need to learn how to use a computer, use the Internet, or use email?
Tutorials and coaching can help you learn one or more of the following:
Getting Started on the Computer
Using a PC (with Windows 7)
Basic Search
Navigating a Website
Signing up for Email
Using Email
Starting Online Job Searching
Come to Computer Basics Help at the Ruth Holley Library!
Classes are offered twice a week for an hour each time: 2 p.m. on Tuesdays or 9 a.m. on Wednesdays.
Bring your own headphones or earbuds to hear the tutorials, or you can purchase earbuds for $1 at the customer service desk.
No pre-registration required and walk-ins are welcome. See you there!
Click the title of this post to view comments.