East Library will be closed Wednesday, April 22 - Sunday, April 26 for renovations. Available holds can be picked up at Library 21c during that time.
Fountain Library

Address:
230 South Main St.
Fountain, CO 80817
Phone:
(719) 382-5347
Hours:
Monday - Thursday: 9 a.m. - 9 p.m.
Friday and Saturday: 10 a.m. - 6 p.m.
Sunday: Closed
Holiday Hours and Closures
Bus Route: Fountain Municipal Transit



FREE Wireless!
Laptop Loans
Study Rooms
What's New!
Join us for our Bright from the Start Parent-Child Workshop! This workshop is part of PPLD's new Family Place initiative and is designed for children ages birth-3 years with a favorite adult. Spend time together, play, experience art activities and meet new friends! Community Resource Specialists will be on hand to discuss early literacy, child development, speech and hearing, nutrition, and play and movement in an relaxed environment.
Please plan to attend all five sessions, either morning OR evening, held at Fountain Library, 230 S. Main St. Registration is required. Older siblings are welcome.
Wednesdays, April 1 - 29
Family Place Libraries™ is a network of children's librarians nationwide who believe that literacy begins at birth, and that libraries can help build healthy communities by nourishing healthy families. The Family Place Libraries network currently includes more than 400 sites in 27 states and continues to grow.
Click the title of this post to view comments.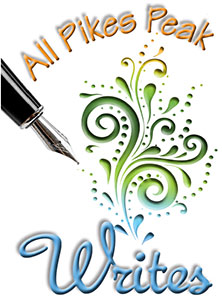 The challenge:
Write an original fiction story of up to 2,500 words that begins with the sentence: "Sunlight and shadow flashed across the mountain."* What happens from there is up to you!
Who can enter:
Middle school or high school students who are El Paso County residents.
Deadline:
Original, previously unpublished stories and entry forms must be submitted to Pikes Peak Library District staff by no later than 9:00 p.m. on June 30, 2015.
The top five middle school and the top five high school entries will be published in a PPLD eBook anthology. Winners will be notified by August 14, 2015.
See the entry form for official rules.
We take our theme for this year's teen fiction contest from the library theme: Transformation at Elevation.
*A big thanks to Scribes & Bards (East Library), Teen Writing Group (Library 21c), and the Penrose Teen Writers' Association (Penrose Library) for the selection of this year's first line!
Click the title of this post to view comments.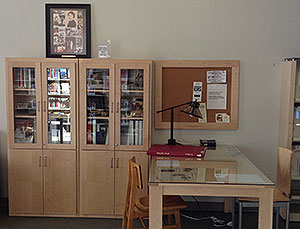 The Louise (Lacey) and Allen Simpson Heritage Corner at Fountain Community Library contains information on the history of the Fountain Valley area and genealogy reference materials. We are collecting family histories from those who have lived in the area for at least fifty years, as well as other items of interest. The Heritage Corner also contains information on Fountain's Fairview Cemetery, and some historic maps of the area.
The Heritage Corner was made possible by a generous donation from the Lacey-Simpson family.
If you are interested in learning more about the Heritage Corner or donating family histories, please call the Fountain Library at (719) 382-5347. We also have monthly genealogy classes for those interested in learning more about their family roots!
Click the title of this post to view comments.