Ute Pass Library will be closed today, Friday, April 17, due to inclement weather.

East Library will be closed Wednesday, April 22 - Sunday, April 26 for renovations. Available holds can be picked up at Library 21c during that time.
AfterMath: Free Math Tutoring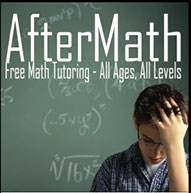 Is math homework getting you down? Are finals freaking you out? Do you need to brush up before the ACT, SAT, GRE, or GED? Our experienced math tutors can help you improve your grades and take the stress out of math. Tutoring for all ages and levels.
When: Thursdays, 4 - 6:30 p.m.
Where: East Library
When: Mondays, 5:30 - 7:30 p.m.
Where: High Prairie Library
When: Wednesdays, 3:30 - 6 p.m.
Where: Library 21c
When: Mondays, 3:15 - 6:30 p.m.
Where: Manitou Springs Library
When: Mondays, 3:30 - 7 p.m.
Where: Monument Library
When: Saturdays, 10 a.m. - noon
Where: Sand Creek Library
No appointment necessary, just drop on in!