All PPLD facilities will be closed on Wednesday, December 24, and Thursday, December 25. Happy Holidays!
Mobile Library Services
Due to a mechanical issue, the county mobile will be leaving the Black Forest stop early around 3:30 today, Monday the 15th. We will return at our regular time next Monday.
City Mobile Library Stops:
County Mobile Library Stops:
What's New!
Submit your artwork to our Teen Art Contest!
The theme for our 2015 Teen Art Contest is Out of This World. Think beyond the scope of the everyday and explore something "out of this world" through art. Imagine a fantastical realm or the deepest depths of space and express yourself on canvas, cardboard, paper, wood, or even metal; the medium is your choice!
Artwork will be accepted on March 2 and 3 at the following libraries: East, Fountain, High Prairie, Library 21c, Manitou Springs, Monument, Penrose, Sand Creek, and County Mobile Library stops.
Guidelines
All entrants must be in grades 6 - 12 in March 2014.
All entrants must submit an online submission form and Artwork Agreement Form.
Entrants may submit only one piece of art.
Jurors reserve the right to decline inappropriate entries.
Entries must be two-dimensional and no more than two inches deep, including frame. Any textural elements (glued-on items such as pencils, pennies, etc.) must be inside a frame to prevent damage.
For more information, email rphilipsen@ppld.org or call (719) 884-9800, x6336.
Click the title of this post to view comments.
After 15 years and 272,236 miles of service to the residents of El Paso County, Mobile Library 698 will be leaving tomorrow to serve another library district in Southern Colorado. Happy trails, old friend!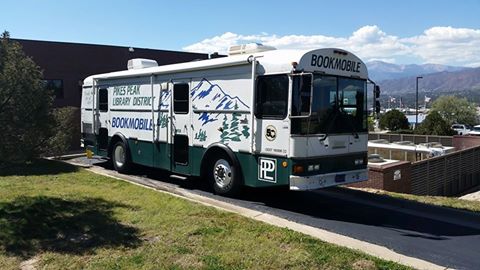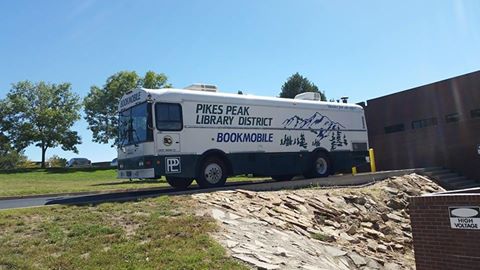 Click the title of this post to view comments.