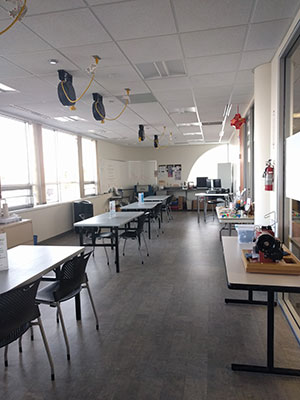 Welcome to MAKE @ East
Located at East Library, 5550 N. Union Blvd., MAKE @ East blends high and low tech resources for patrons exploring the range of their creativity. MAKE @ East is available for public use during Open Hours and is generally free, with the exception of some equipment and materials.
About the Space
MAKE @ East has a capacity of 14 people
MAKE @ East is intended for a broad variety of projects, including some that require hand tools, emit fumes, or use advanced machinery
MAKE @ East is open to the public during scheduled Open Hours
Patrons must have a signed User Agreement Liability Waiver on file, have a PPLD library card, and be at least 9 years of age to use the space.
For their safety, minors age 9-11 must be accompanied by a parent or guardian at all times.
Patrons must check in with Make @ East staff before using equipment or materials.
Open Hours
Mondays: 9 a.m. - 1 p.m.
Tuesdays: 1 - 8:30 p.m.
Wednesdays: 5 - 8:30 p.m.
Thursdays: Closed
Fridays: 1 - 5 p.m.
Saturdays: 10 a.m. - 1 p.m.
Sundays: Closed