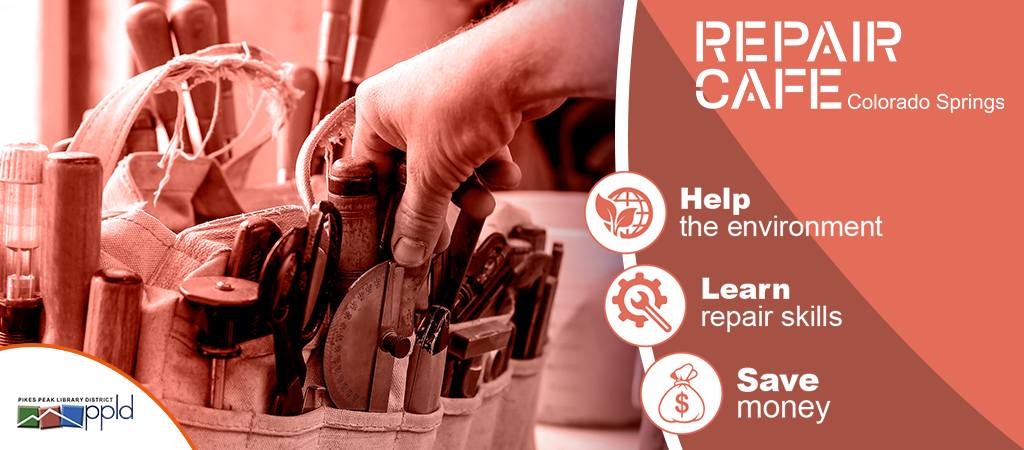 PPLD's Repair Café is a neighborhood initiative that promotes repair as an alternative to tossing things out. At a Repair Café you'll find the tools and materials needed to repair your broken items, as well as knowledgeable volunteers who will show you how to do it. Repair Trainers will offer a diagnosis and suggested remedy for broken items, repairing items when possible and otherwise explaining what parts you may need to obtain to complete the repair. The Repair Café exists to show how much fun repairing things can be, and how easy it often is. Why don't you give it a go? Click Here to learn more about the international Repair Café initiative.
Upcoming Events:
Individuals must agree to the Repair Café Guidelines and Disclaimer to participate.
Volunteers offer no guarantee of items being repaired made by them or with their assistance, and are not liable if objects repaired do not work properly at home. Volunteers are not obliged to reassemble disassembled appliances that cannot be repaired. Disclaimer: Please know you bring your items to be repaired at your own risk. Because repairs are made by unpaid volunteers there may be risks. Neither the facilitators of Repair Cafés nor the repair volunteers are liable for any loss or damage that may result from advice or instructions, for the loss of items handed over for repair, for indirect or consequential loss, or for any other kind of loss resulting from repairs made by Repair Café.
Get Involved!
Do you enjoy sharing your knowledge with others? Can you…
Repair tires, chains, or brakes for bikes?
Mend, hem, or patch clothing?
Test, dismantle, or fix small appliances?
Assess, disassemble, or possibly repair electronics?
Fix wobbly furniture or other wooden objects?
If you answered yes to any of these questions, help your local community by becoming a Repair Trainer! To apply, fill out our volunteer application and skill specialty questionnaire and drop them off at Library 21c attn: Creative Services, or email both to repaircafe@ppld.org.