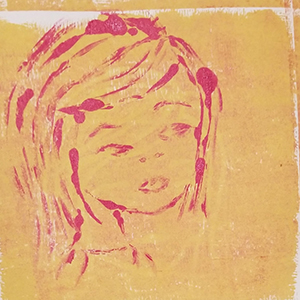 Shirley Dale, PPLD's current Maker in Residence, has been creating in one way or another since childhood, applying this creativity in many different endeavors and careers. The joy of creating and the belief that everyone has the ability to create art have been constants throughout her life. Shirley has worked with many different mediums as a teacher and artist, always finding exciting, creative possibilities with whatever art materials are at hand. She is currently working with acrylics for monotype prints as finished pieces, and also for use in mixed media collage pieces.
She will be teaching classes throughout Pikes Peak Library District and hosting Meet the Maker in Residence sessions in the CreateSpace at Library 21c.
Monotype Printing without a Press
Monotype prints are one-of-a-kind prints. Learn how to create these unique prints using different types of plates and paints! Experiment with stencils, masking, colors, and pressure. Attendees will gain an understanding of basic printmaking using simple, easy-to-find materials. More importantly, attendees will have lots of fun creating at this class and will leave with beautiful, unique pieces of art.
Please help ensure that other patrons have the opportunity to participate in this program by only registering for one session.
Meet the Maker in Residence
Visit with Shirley Dale and see her work on a special Colorado-themed printmaking project in CreateSpace at Library 21c.
Wed., March 13 from 1 p.m. - 4 p.m.
Thu., March 21 from 10 a.m. - 1 p.m.
Tue., April 2 from noon - 3 p.m.
Sat., April 13 from 10 a.m. - 1 p.m.
Mon., April 15 from 11 a.m. - 2 p.m.