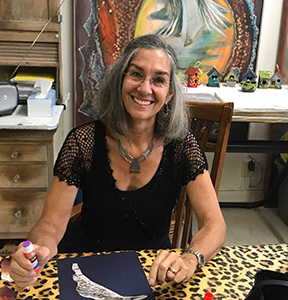 PPLD's Maker/Artist in Residence for March/April 2018 is Joanna Bolek, has taught art processes in the context of mindfulness/awareness for over 20 years to diverse populations. She has a masters degree in art education. She is also a qualified meditation and Dharma Art instructor.
Sarah will be teaching classes throughout Pikes Peak Library District, as well as hosting open studio hours at Library 21c.
Collage, Contemplation, and Conversation
Art requires engagement in our senses…i.e., "Stop and smell the roses." When introducing collage techniques, Joanna encourages class participants to attune themselves to the visual images, colors, and shapes that "speak" to them from the materials at hand. (We "hear" best when our minds are relaxed and free of our usual concerns.)
These classes do not require previous art-making experience. All materials will be provided, although, if you have images (from magazines, calendars, copies of photos, etc.) of your own that you want to include, please bring them. This is an opportunity to explore/contemplate a personal sense of being in the context of a group. There will be time to verbally share your experience of the process if you choose to.
The main point is to relax, enjoy, and discover while producing a collage that will surprise and delight you.
Studio Hours at Library 21c
Fri., March 9 from noon - 5 p.m.
Fri., March 30 from noon - 5 p.m.
Sat., April 21 from noon - 5 p.m.
Visit PPLD's Maker/Artist in Residence page for more information about this program.