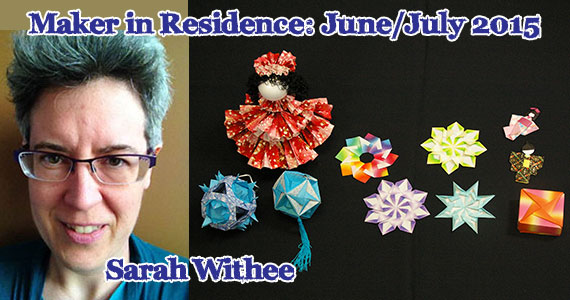 PPLD's Maker in Residence for June and July 2015 was Sarah Withee. She began folding paper as a child, and was introduced to modular origami by Makoto Yamaguchi's book Kusudama (Origami Ornaments). Thus began a lifelong interest in Japanese paper arts. Sarah has lived in Japan and taken classes in advanced paperfolding and doll making at Tokyo's Origami Kaikan, and has an extensive library of origami books.
Sarah is an experienced origami instructor who has worked with students from children to senior citizens. She has taught origami at the Japan America Society of Southern Colorado's Children's Day for over 10 years, as well as classes for Pikes Peak Library District and private classes. If you have tried learning origami from a book and failed, Sarah knows just how to help you get unstuck!
Visit PPLD's Maker/Artist in Residence page for more information.