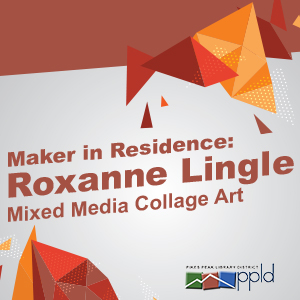 Welcome our latest Maker in Residence, Roxanne Lingle!
Maker in Residence: Mixed Media Collage Art
This class will come alive with "Colors of Hope" through colorful papers, paints, stenciling, plaster, and words of hope. Learn how to layer paper, decorative napkins, and paint washes, then add texture using modeling paste and plaster for a unique assemblage look. Create a three-dimensional effect by incorporating objects such as jewels, paper flowers, tiles, and ephemera. Each participant will learn a variety of mixed media techniques and will leave the class with a unique piece of art.
Please help ensure that other patrons have the opportunity to participate in this program by only registering for one session.
Please also visit with Roxanne Lingle and see her work on a special mixed media project at Library 21c for Meet the Maker in Residence on select dates from September 7 - October 10!
Background:
Roxanne Lingle is a mixed media artist and teacher. She has been teaching for many years and loves to inspire her students and see them "come alive" when they realize they can do something they never thought possible. She loves mixed media art and all its variety of color, texture, and amazing avenues for creativity. Roxanne has taught many types of mixed media classes in the Pikes Peak region as well as across the United States.