Image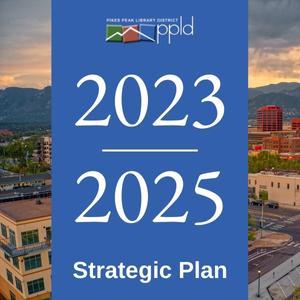 From a small reading room established 136 years ago, PPLD continues to evolve to meet the ever-changing needs of our sprawling community. Our service area covers 2,070 square miles of El Paso County with a population of nearly 700,000 – people of all ages and backgrounds with varying views and interests.
Thanks to taxpayer funding, we can continue to provide residents with access to 16 facilities, three mobile library services, and a large online hub of resources and services, all of which are inclusive and welcoming to everyone. The Library team strives to make its physical and digital spaces safe and respectful for diverse voices, perspectives, and pursuits; to foster community dialogue and connections; and to help people achieve their goals and dreams in life.
Overview and Process
In the winter and spring of 2022, our Board of Trustees and staff revisited PPLD's mission statement and developed a vision statement and organizational values that best reflect our public library system and growing community in El Paso County.
This became our starting point to develop our new strategic plan for 2023 - 2025. After months of input from the public through surveys and in-person meetings, PPLD staff, Library patrons, and other community members and government officials, PPLD used the rich qualitative data it received from more than 1,600 responses to develop a new strategic plan for 2023 - 2025. Below are the six areas of focus the team identified that became the foundation of the plan.
Strategic Plan: Areas of Focus
Access

PPLD is an access point for everyone to engage with resources, services, and spaces as they choose.

Accountability

PPLD is accountable to all stakeholders through fiscal responsibility, continuous evaluation, and by sharing findings with the public.

Communications

PPLD invests in and elevates community awareness of its resources, services, and spaces.

Community Connections

PPLD builds community through relationships and partnerships to connect people to relevant resources, services, and spaces.

Physical and Virtual Spaces

PPLD provides equitable access to physical and virtual spaces in safe and inclusive environments.

Staff

PPLD values, trusts, and invests in staff.
PPLD publicly released this plan in detail on Dec. 6, 2022, so everyone could see where, why, and how PPLD will reinvest taxpayer dollars back into the community through 2025. We look forward to using our new strategic plan to fulfill our mission, uphold our values, and aim to achieve our vision for this great community.
View the complete plan here: