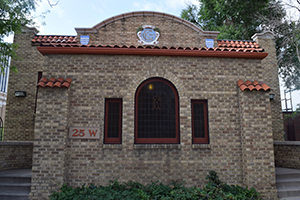 Space to Thrive, by the Community, for the Community
- KCH Mission Statement
---
Pikes Peak Library District is pleased to announce the official opening of the Knights of Columbus Hall (KCH), beginning on March 9th.
KCH offers a large public space that can be utilized for anything from concerts and theater performances to business presentations and classes. KCH has three main spaces available for use.
MacLaren Hall is the centerpiece room of the building and can hold a maximum capacity of 195. There are ample tables and chairs available for use, as well as a PA system, stage, projector, laptop, and screen.
The Mezzanine overlooks MacLaren hall and has a capacity of 17 people. This space is perfect for business meetings, networking sessions, and creative collaboration.
The Lower Level Classroom has a capacity of 21 people. This space can serve as a classroom, presentation space, and meeting room for smaller groups.
---
The entrance to KCH is located in the Northwest corner of the
Penrose Library Campus Parking lot.
If you have questions or would like further information on KCH, email dbooth@ppld.org.