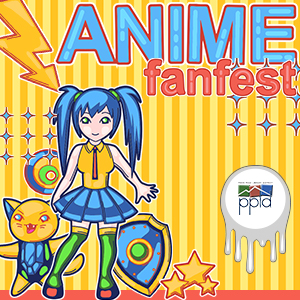 While we won't be having our usual Anime Prom this year, we still want to celebrate anime! Anime Fan Fest, Mon., April 19 through Fri., April 30, will feature a variety of virtual programs for our teen anime and manga lovers. Create a treat at home, break out of an escape room, improve your drawing skills with an instructor from Bemis Art School, learn to draw some Miyazaki characters, and show off your cosplay!
---
Learn to make a quick and simple, microwaved version of these Japanese rice cakes.
Premieres Mon., April 19 at 11 a.m.
---
My Hero Academia Escape Room
Celebrate Anime Fan Fest by participating a virtual escape room themed to My Hero Academia! For ages 12 - 18.
---
Anime and Manga artists can share your favorite characters and drawings.
Participants share in the fun, as beginners through advanced artists get tips and tricks for enhancing our drawings from a seasoned art instructor from Bemis Art School and local high schools. All can join in the fun with positive, encouraging ideas for taking the next step in your illustration of your favorite characters!
Register above or join in on Sat., April 24 at 6 p.m. by clicking here.
---
Learn to Draw Miyazaki Sidekicks
Learn to draw your favorite Miyazaki sidekicks with the help of Penrose Library's very own Young Adult Librarian, Mikaela!
Premieres Tue., April 27 at 11 a.m.
---
Cosplay Showcase
If you've attended Anime Prom in the past, one of your favorite parts may have been the chance to show off your cosplay and see everyone else's! Knowing we have so many awesome cosplayers, we wanted to make sure it was included in Anime Fan Fest.
Join us for a virtual cosplay showcase. You'll want to make sure your device has a camera and that you'll have the space to get up and show us your creation. You might consider finding an image you can use as your Zoom background to match your cosplay.
A link for the Zoom session will be sent to the email you enter when registering (below). Stop by Library 21c after you register to get a surprise to enjoy during the showcase!
---