Image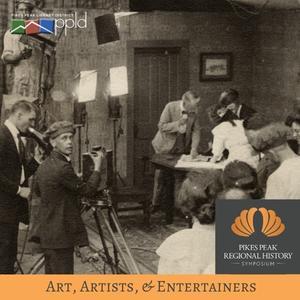 Artists and their creativity are at the heart of a region's culture. The Pikes Peak region, with plentiful natural beauty, serves as a rich well of inspiration. Artists and entertainers are motivated by a variety of reasons: producing something beautiful, communicating a message, eliciting an emotional response, creating the reality they feel, or enjoying the creative process. Artists and entertainers have left a rich legacy in the Pikes Peak region.
Scheduled for Sat., June 10, 2023, the 20th annual Pikes Peak Regional History Symposium, "Art, Artists, & Entertainers," will explore the arts and culture of the Pikes Peak region.
Topics may include, but are not limited to: music, written word, fashion, fine arts, culinary arts, street art, design and architecture, artistic performances, actors, performance spaces, theatre and acting, athletics and human achievement, philanthropy, artistic clubs and subcultures, change in arts over time, radio, artist colonies, as well as contributors like Fannie Mae Duncan's Cotton Club, Van Briggle Pottery, The Alexander Film Company, and Current.
---
Call for Proposals
Proposals should be sent by Fri., Jan. 6, 2023
Send proposals to:
Brett Lobello, Director of Regional History and Genealogy

Pikes Peak Library District

P.O. Box 1579, Colorado Springs, CO 80901
---
Proposal Guidelines
Please use these guidelines to prepare your proposal. Please include all seven requirements.
TITLE (5-15 words): A descriptive title for your proposed presentation and/or paper
SUMMARY (50-100 words): A brief summary of the topic covered in your proposed presentation/paper
ABSTRACT (1,000-1,500 words): A summary that includes your thesis, all the supporting arguments and conclusion for your proposed presentation/paper
SOURCES (50-100 words): A general list of primary and secondary research sources supporting your proposed presentation/paper
SHORT BIOGRAPHY (75-100 words): A brief description of you
RESUME (One Page): A resume with relevant educational and research accomplishments, mailing and email addresses, and phone number
PROPOSAL FOR: (Please indicate one)

Symposium presentation only
Regional History Series publications*
Both Symposium presentation and the Regional History Series publications
Either Symposium presentation or the Regional History Series publications

Selecting "Either" will not negatively impact the possibility of acceptance of your proposal for both but may increase the possibility for acceptance for one or the other if both cannot be accommodated.

*Note: Written papers (6,000-12,000 words) accepted for consideration for publication in the Regional History Series (online or possible printed book) must be submitted in final form six months after the Symposium date. Paper guidelines are available at RegionalHistorySeries.org