Image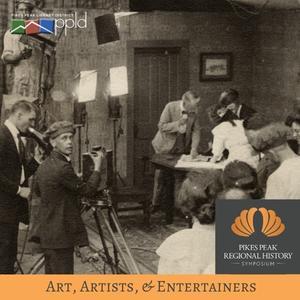 Experience interesting research and knowledge about our local history at the 20th Annual Pikes Peak Regional History Symposium. This year's theme is Art, Artists, & Entertainers. Presenters, selected from proposals submitted by academics, researchers, and the general public, will explore the artists and entertainers that have left a rich legacy in the Pikes Peak region.
Artists and their creativity are at the heart of a region's culture. The Pikes Peak region, with plentiful natural beauty, serves as a rich well of inspiration. Artists and entertainers are motivated by a variety of reasons: producing something beautiful, communicating a message, eliciting an emotional response, creating the reality they feel, or enjoying the creative process. 
---
Film Festival and Symposium 
Join us as we kick off this year's Pikes Peak Regional History Symposium with a film festival featuring three short films that tell the story of local artists and their impact on the Pikes Peak Region. 
Films include: 
"Boardman Robinson: The Teacher"  
"Henry A. Clausen: The Danish American Wonder"
"Not Quite Hollywood: The Alexander Film Company's 'Anatomy of a Psycho'" 
Sat., May 20 from 11 a.m. - noon – Penrose Library 
---
In-person Symposium 
Explore the history of our region's creative heart through these live presentations. The in-person portion of this year's Regional History Symposium will be at East Library, and a question and answer session will follow. 
Sat., June 10 from 10 a.m. - 1 p.m – East Library 
---
Virtual Symposium 
Part of this year's symposium will be presented in a live virtual session. Learn about the Colorado Springs Civic Players, the Jaz Age in Colorado, and historic jewelers.  
Mon., June 12 at 7 p.m. – online  
Registration is required for the virtual presentation. A Zoom link will be sent to you once you register.