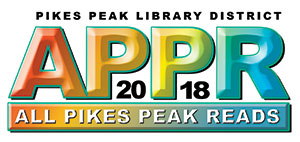 Pikes Peak Library District (PPLD) is pleased to announce the selected titles for All Pikes Peak Reads (APPR) 2018, which will run from September 10 - November 17.
For a complete list of events, click here.
Our selected adult title is The Newcomers: Finding Refuge, Friendship, and Hope in an American Classroom by Helen Thorpe. The book explores themes of diversity, multiculturalism, compassion, immigration, endurance, resiliency, and hope. PPLD will use these themes while planning programs of community interest. Our selections for teens and children titles also explore similar themes. (For a list of book club discussion questions for The Newcomers, click here.)
Our title for teens and young adults is Flying Lessons and Other Stories edited by Ellen Oh. Flying Lessons was published in partnership with We Need Diverse Books.
Our children's title is Last Stop on Market Street by Matt de la Peña. Last Stop on Market Street was the 2016 Newbery Award winner.
This fall we will present a variety of programs to the community including author visits, film screenings, community discussions and panel presentations, theater productions, art installations and gallery exhibitions, and more. We will be undertaking many of these with our community partners.
We are delighted that our selected authors will be able to join us in the fall. Helen Thorpe will be visiting at 7 p.m. on Tuesday, October 2 at Library 21c. Matt de la Peña (who also wrote a short story included in Flying Lessons and Other Stories) will visit at 6:30 p.m. on Thursday, November 8 at Library 21c.