Image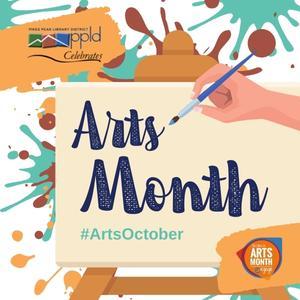 This October, arts and culture takes center stage across the Pikes Peak region as our community celebrates Arts Month! And you're encouraged to have one new cultural experience with family or friends sometime this month.
Art is for everyone, and we're offering opportunities for people of all ages and skill levels! To kick off the month, we will be offering Take and Make kits at participating Library locations that you can pick up and enjoy doing at home (while supplies last).
There are also several Library programs happening throughout October like workshops and open paint nights. Come celebrate Arts Month with us this October.
Here are a few options:
---
Bad Art Night – For Adults 
Multiple dates starting Wed., Oct. 5
All of the fun of making art with none of the pressure! Join us to create the most ridiculous pieces of art you can think of - from painting to collage to sculpture - while enjoying snacks and refreshments. At the end of the night, there will be awards for the most over-the-top bad artwork! All supplies will be provided. Come celebrate Arts Month with us in a judgment-free and glitter-heavy zone!
---
Mini Pumpkin Decorating – For Tweens 
Multiple dates starting Thu., Oct. 6
Transform a mini pumpkin into a one-of-a-kind masterpiece! We will have everything you need to decorate a pumpkin for fall. For ages 9 - 12. Registration required.
---
Pikes Peak Live! – For Teens and Adults 
Sat., Oct. 22 from 9 a.m. - 6 p.m. at The Hall at PPLD (formerly known as Knights of Columbus Hall)
Pikes Peak Live! is an all-day event that consists of performing art workshops that will conclude with a talent show by the participants for the public. The day will start with a series of workshops where participants can choose to attend either poetry, music, or comedy workshops. Participants then will come together to present their works (panel style) where they'll learn some tips and tricks on performing on stage. The day will conclude with a talent showcase where participants can take part and test the water by performing in front of an audience. The showcase is open to public viewing.
---
View all Library programs and activities during Arts Month.
To find out what else is happening around the region, check out the calendar of events at ArtsOctober.com.
We partner with the Cultural Office of the Pikes Peak Region throughout the year to encourage residents of El Paso County to engage with their community through arts, culture, and other programs and experiences. PPLD is a proud partner of #ArtsOctober and PeakRadar.com.