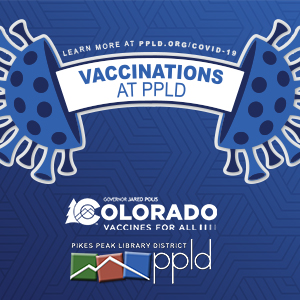 Pikes Peak Library District was selected as a vaccine equity clinic site as part of Governor Polis' efforts to ensure that every person in Colorado has access to the COVID-19 vaccine, no matter who they are or where they live.
"Since we began distributing vaccines to communities across our state, we have made a concerted effort to do so in a way that is equitable, saves the most lives, and ends the immediate public health crisis as quickly as possible," said Governor Jared Polis. "With each vaccine administered we take another step toward getting back to life as we knew it. I want to thank community organizations across our state for their partnership in ensuring that every person who wants a vaccine, can get one."
---
Get Vaccinated at PPLD!
When: Wed., May 19 from 1 to 5 p.m.
Where: Fountain Library
IMPORTANT: Please remember, patients must commit to both dates (1st and 2nd doses) in order to receive their first dose. We cannot guarantee accommodation for those who can't attend the 2nd dose clinic on Wed., June 9.
Vaccine: Pfizer

Additional dates and locations coming soon. If you are unable to attend, the registration link below provides additional options.
Appointments are strongly encouraged. Walk-ins are welcome as space allows; people will be placed on a waitlist unless open slots are available.
---
Get Your Second Dose!
Sand Creek Clinic May 5
If you received your first dose at Sand Creek Library on May 5, you must register for your second dose below.
When: Wed., May 26 from 11 a.m. to 3 p.m.
Where: Sand Creek Library

Link to register coming soon.

IMPORTANT: We cannot guarantee accommodation for those who can't attend the 2nd dose clinic on Wed., May 26.

---

Or call the vaccine call center at 877-268-2926.




---

COVID-19 Vaccine Frequently Asked Questions
Vaccine Fact Sheets
CDC: What to expect after getting a COVID-19 vaccine

---

Additional Resources