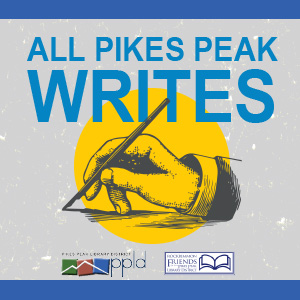 This year, Pikes Peak Library District has combined the All Pikes Peak Writes and Teen Fiction writing contests in order to highlight writers of all ages in our community in one place. The contest will have three categories for ages 12 - 18, 19 - 24, and 25+. Links to the guidelines, rules for entry, and submission form for each category can be found below.
Submissions will be accepted May 15 through 9 p.m. on July 15.
Eligibility:
All Pikes Peak Writes is open to El Paso County residents ages 12+.
Judging:
Entries will be judged on quality of writing, use of language, plot development and resolution, believable characters, and correct punctuation, grammar, and spelling.
Awards:
Prizes will be awarded for first, second, and third place entries in each category. An award ceremony will be held on Sat., Aug. 24 in the East Library Community Room.
Categories:
Click on age group for submission information.