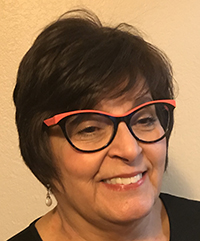 Position
Secretary/Treasurer
Professional Life: Dora is a mathematics instructor & coach for the 2-Year Alternative Licensure Program. She is a retired mathematics professional with 30 years plus experience.
Community Involvement: Dora is involved in the Colorado community. She is the treasurer for Adelante Mujer Inc. a nonprofit providing leadership learning opportunities to High & Middle School Latina students in the Denver Metro region. Locally, she is actively involved in various church ministries, the American GI Forum & CPCD. She recently completed her tenure as President for Friends of PPLD.
Education: Dora received her BA in education from UCCS & her MA from University of Northern Colorado in mathematics pedagogy.
Family and Personal Life: Dora has been married for 48 years to her husband, Albert, and has two children, Caesar and Jessica, and one granddaughter, Sofia. Dora enjoys traveling, reading, the arts, and watching her granddaughter play hockey.