Image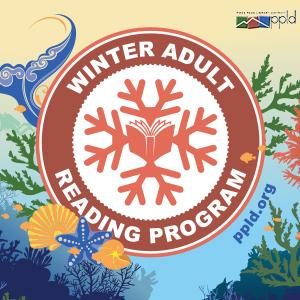 Join us for this year's Winter Adult Reading Program: Ocean of Possibilities
Log 30 days of activities from Tue., Feb. 1 - Thu., March 31 to earn prizes! Activities include attending programs, anything listed under the activities section below, and reading for 30 minutes or more a day.
Winter Adult Reading Program Registration Kick-Off!
Join us as we kick off the 2022 Winter Adult Reading Program: An Ocean of Possibilities! Register in person or at curbside and receive a tote bag that has everything you need to help you participate in the reading program. Bags will be available on a first come, first served basis, and available only while supplies last.
Prizes
Log 15 activities or 15 days of reading for 30 minutes or more a day to earn a reusable straw set and a chocolate bar from Rocky Mountain Chocolate Factory. Log 15 additional activities or days of reading, for a total of 30 activities, and earn the annual reading program mug.
You can complete the program through a combination of activities and reading, but must have 15 days of reading 30 minutes or more a day to earn the mug and be entered into the Grand Prize Drawing.
Grand Prize Drawing.
You can earn extra entries into the Grand Prize Drawing! For every additional 5 days of reading you will receive one additional entry into the Grand Prize Drawing for a total of up to 5 additional entries. PPLD employees are not eligible for grand prize.
---
Reading Resources
---
Activities
Need some suggestions for activities? We're here to help:
Take and Makes
Read a book about an ocean explorer
Watch the movie version of a book you read
---
Live Virtual Programs
Seeking the Lord, the Search for the Jarvis Lord Shipwreck


Join shipwreck hunter and author Ross Richardson in exploring the depths of Northern Lake Michigan while looking for lost ships and missing aircraft. Dive down to Lake Michigan's newest shipwreck discovery and meander through the histories and mysteries of the Manitou Passage, the most dangerous place in Lake Michigan.

Skype a Scientist

Join PhD student Christopher Jones for Skype a Scientist! Christopher is a a PhD student at the University of California, Riverside studying geobiology, marine geochemistry, and marine geology! Come prepared with your questions about the ocean and Christopher will answer them!
---
Recorded Programs
Sea Shanties and Stories with Willson and McKee

Join Willson and McKee of The Jigheads for sea shanties and stories in this two-part video series. Part one will air on PPLD's YouTube channel from February 1 - 28, and part two will air from March 1 - 31.
---
In-Person Programs
---
Pick up your copy of District Discovery: Winter Adult Reading Edition to track your progress, read stories, and more!