Image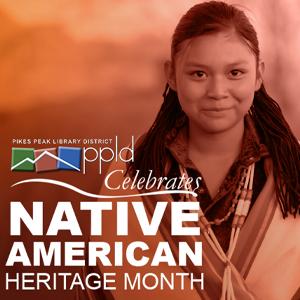 Celebrate Native American Heritage and learn more about Native American culture and history with programs and resources at PPLD!
---
Childrens
Virtual Author Visit with Traci Sorell, co-author of Indian No More
Register your classroom or homeschool family for a live Zoom visit with our APPR Children's Author Traci Sorell, co-author of Indian No More. A recording of the program will be available for a limited time. Only one registration needed per group for this 60 min. program.
Book Description: Regina Petit's family is forced from their homeland by the government and relocated to Los Angeles in 1957. Regina experiences a completely different life in a big city and learns about struggles, strength, and heritage. 211 pages. For grades 3 - 6.
Contact bhuff@ppld.org to register your classroom or child for a live Zoom visit.
---
Adults
Untold Stories of Native America
Join Native American storyteller Sebrena Forrest to learn more about Native American culture. She will perform tales from indigenous cultures to educate and entertain as part of National Native American Heritage Month. This program is intended for patrons ages 18 and up. 
Women Warriors: Mitchelene BigMan SFC US Army (ret.) and founder of Native American Women Warriors
PPLD welcomes Mitchelene BigMan as she speaks and performs traditional dances.
Born in 1966 on the Crow Reservation in Montana, Mitchelene BigMan enlisted in the U.S. Army in 1986 after working as a firefighter and dockworker. She served two tours in Iraq during Operation Iraqi Freedom and received a Combat Action Badge for surviving a mortar attack in 2005. Mrs.BigMan served as an engineer, EEO advisor, and platoon sergeant before retiring as at Sergeant First Class in 2009.
Mitchelene BigMan went on to found the Native American Women Warriors (NAWW) organization, a color guard of female Native American Veterans which brings attention to and honors the contributions of Native American women's military service. Her advocacy has earned her the Society of American Indian Government Employees award, service on the advisory committee for the Smithsonian National Native American Veterans Memorial, and performances at notable events including President Barack Obama's second inauguration.
---
Resources
The Horace S. Poley Photographs Collection:
This a major collection of photographic images of Native Americans in the southwestern United States. Included are images of the Fiesta of San Geronimo at Taos, the Snake Dance of the Hopi, Mesa Verde National Park in Colorado, Bandelier National Monument in New Mexico and the Dedication of the Ute Pass Indian Trail in 1912.
Additional Photographs:
Search our Digital Collections for more photographs! We recommend using search terms like, "Native American," "Indian," and "Ute."
"Sioux Indian Dance to the 'Shrine of the Sun,'" archival manuscript. (CU 22.9)
Selected Reference Books
---