Image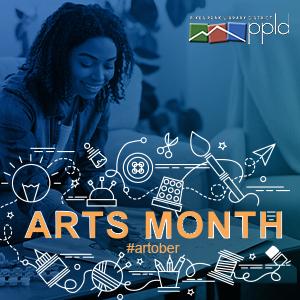 Did you know that October is Arts Month? Better yet, do you know what Arts Month is all about? (Click here to check out the Cultural Office of the Pikes Peak Region's website to learn the history of the initiative!) Arts Month is an opportunity to explore the arts and culture of the Pikes Peak Region, trying out new cultural experiences with friends and family . We've pulled together all of our upcoming cultural activities in one easy spot. Find the calendar of PPLD Arts Month events HERE.
---
#Artober Challenge!
Based on art and artist-based challenges for October, PPLD offers its own twist on the idea with their own challenges. Click here to find the Artober challenges. Use #Artober so we can see what you make!
---
Programs
All Pikes Peak Makes Explore the world of making this October with All Pikes Peak Makes! A maker is someone who creates – to be innovative, to solve problems, to bring something beautiful into the world, or simply to have fun. They have an idea and they bring it to life. Making can encompass just about anything, from high tech to low tech to no tech, from art to fabrication to artistic fabrication, from needles to table saws to software. Join us October 11 - 24 as we celebrate making in the Pikes Peak region – by exploring outer space as well as local maker hubs, tinkering, thinking, and, of course, making!
All Pikes Peak Makes at the Knights of Columbus Hall on Fri., Oct. 22 from 4 - 9 p.m. Are you ready to get hands-on with some creative projects? Looking to learn more about creative organizations and resources in our community? This year, due to pandemic safety measures, we'll be getting together for a smaller All Pikes Peak Makes event at the newly opened Knights of Columbus Hall. Local creative organizations will bring hands-on projects for the whole family to enjoy.
Registration required for the programs below:
---
Virtual Playlists
Virtual Kids Make Children's staff from around the district lead an art or make project for kids ages 5 - 12.
Virtual Teens Make Need some new craft ideas? PPLD teen librarians have you covered!
---
Resources
Reserve a Pikes Peak Culture Pass to explore museums and attractions in the Pikes Peak region at no cost – all you need is a Library card! By collaborating with local organizations, PPLD provides free admission passes for check out, similar to how you check out an eBook or other electronic resource. The Pikes Peak Culture Pass will increase opportunities for education and cultural learning, creating increased connection between books and hands-on experiences.
Explore PPLD's Free Resources for Home Use or Creative Projects at Home guides for something new to watch, learn, or create.
Visit PeakRadar.com to find additional cultural activities happening locally!
Don't forget to use the hashtag #ArtsOctober to share photos of your new cultural experiences on COPPeR's official Arts Month landing page!